I'm back....
A lot has happened over the last several months while I took a break from blogging.. The big thing is we moved into a bigger house! Yippee! A second thing is I became a writer for
Tipsaholic
, a great blog that shares tips on all kinds of subjects. When you have a moment, check out some of my featured tips on
moving
,
camping
,
starting conversation's with kids
,
flower arranging
and
laundry
.
While there is a lot on my plate right now, I couldn't pass up the opportunity to once again participate in
Calling It Home's
One Room Challenge
. For those of you who don't know, this is a six weeks event with the Linking Participants sharing their progress of decorating a room each Thursday. In the end, a whole room is redone. This will be my third time joining in. In the past, I redid
my laundry room
with a Greenbrier/Dorothy Draper theme and the
kid's mud room
in bright primary colors with a big dash of organization thrown in.
And this time the room in my home I am going to do for the ORC is.....
The library

It's actually our formal living room, but we don't really need a stuffy room where no one can sit on the furniture, and it only sees the light of day when guests come calling. What we do need is a place to curl up with a good book after the kids go to bed at night or somewhere where we can read the Sunday newspaper while sipping a strong cup of coffee before the kids wake up. See a pattern here ;)
I will be reusing a lot of the furniture pieces from my old house, (they are in good shape, so no reason to buy new), but will be adding new accessories that better fit this new space.
And of course the bookshelves will be the star of the room. I'll be sharing my tips on organizing and styling them.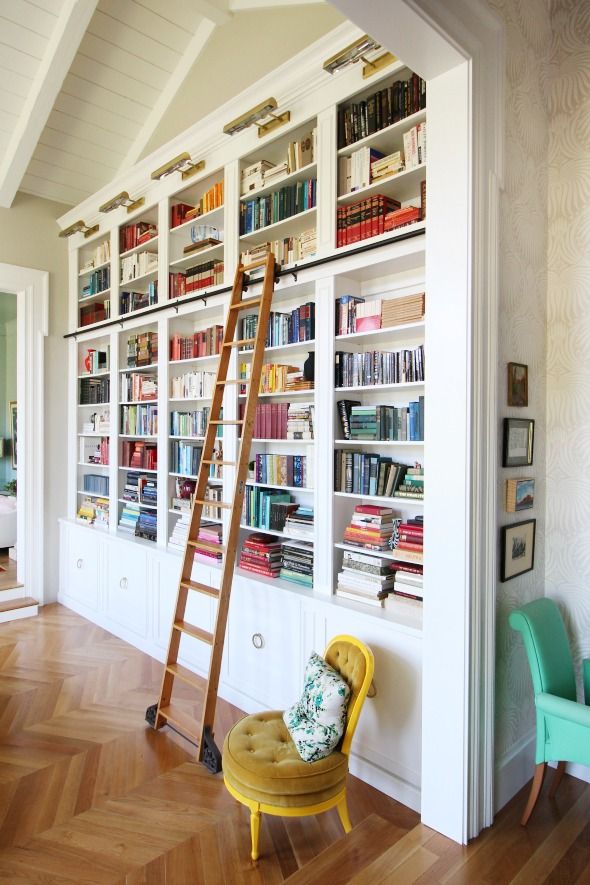 First thing on the list though is getting rid of the white carpet on the floor of the room. It is actually a beautiful snow white expanse through the space. The thing is....I have kids who are very messy, no matter how hard I try to keep them tidy. Meaning that white carpet will have a stain on it in no time flat. So
we
my husband will be replacing it with hardwood floor. Be sure to stop by next week for more on that progress.
And to keep busy, in the meantime, you can check out my
Pinterest boards
where I will be pinning my design inspiration. (I might have a
huge
slight Pinning addiction.) If you want to track my pins, be sure to follow me. I always follow back, and find the best design ideas that way.
I am also contributing to the
One Room Challenge Linking Party Board
on Pinterest, where I will be pinning the design progress of my fellow ORC Linking Participants through out the next six weeks. So many great ideas to feature!
Now I am off to see what everyone else is doing for
their ORC project
. Such creativity out there. Thanks to Linda for putting all of this together. The
One Room Challenge
is so much fun!!!!