Welcome back to Week 2 of the One Room Challenge. I had such a good time last week checking out all the creative plans for rooms. (You can see mine here.) And thanks to everyone who left the great encouraging comments. I just love how those that are a part of the ORC are always so supportive of one another.
I had about fifteen minutes yesterday and decided to play around on Polyvore. I quickly formed an idea for how I want to style the table placed in front of the steps. It will be the first thing you see when you walk in the house, so it needs to look good, but still be functional as a place to drop the mail or place my keys.
Most of the items I already have around the house. Only thing I really need to come up with is the artwork. I do plan to make a cute art project using maps. More on that later.
Now I have a dilemma and need some advice. I am trying to decide what carpet to put on the stairs. I am leaning towards a colorful rug runner like this.
But then I start to second guess myself.
One side says, a rug with a fun pattern will add style to the entryway. I love color, but the rest of my house is tending to be on the neutral and dare I say safe side when it comes to decorating. A colorful rug on the stairs with add some pop to the room.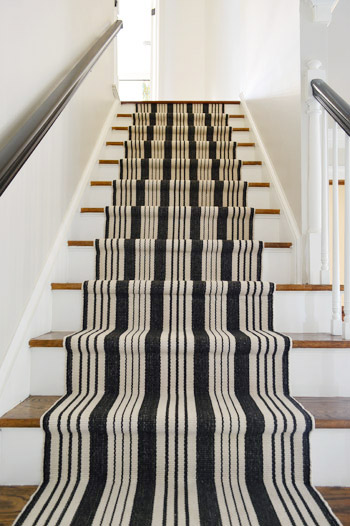 But the other side worries, that when we do sell this house (which will be a few years, but is inevitable) this would limit the type of buyer. They might look at the stairs and walk out the door. Also, it would be harder to decorate around it if later on I decide to change things up. Plus, keeping it neutral is the safe way to go.
I like both ways, and see the benefits of either style. So what do you all think! Which way would you go. Colorful or neutral rug for the stairs?