Welcome back to my ORC. You can check in to
Week 1
and
Week 2
to see how far I have come redecorating our bedroom.
This week was spent shopping. Always a fun thing. My big focus was looking for a rug. I thought a vintage Persian or Kilm rug would be just the thing to add movement and color to the room. I love how these type of rugs look in a space.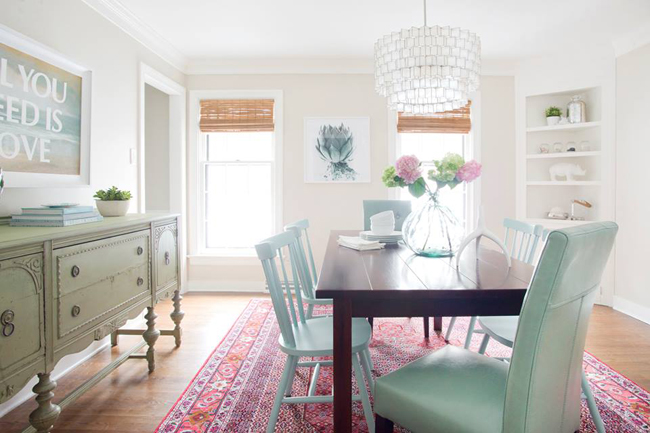 So I turned to my trusty source, Ebay. Finally after about a week of obsessively looking at the listings, and losing out on one rug that I really wanted, I finally got the perfect rug for the room.
These are my tips to find a vintage rug on Ebay...
Avoid using too many keywords in your search. Sellers use all kind of words to describe things. If you get too specific you could miss out on finding an item. I wanted a rug that was mostly blue. I used that keyword at first, but quickly realized that with these types of rugs, there are so many colors, that most sellers were not even putting much of a visual description in their listings.
Select categories instead. First I go to the Antiques category and then selected Rugs and Carpets. I could then further narrow it down by picking the category for the size of rug I was looking for. I then reorganized the listings by resetting sort to list the lowest price first...I am looking for a bargain after all.
Read the descriptions. Most sellers are fairly detailed and honest when describing the rugs. They will list the condition of the rug and most of the time it's place of origin. Vintage rugs do not come in a standard 5x7, 8x10, etc. so look at the description for exact measurements, or ask the seller if they are not listed.
Look at pictures carefully, but don't completely trust them. I did study the pictures to see what condition the rug was in and to see if I could live with the kind of damage they had. (I was looking at vintage, so I expected the rug to have had a life with a few bruises along the way.) I did realize though that the color was probably not exactly true to life, since that can be easily enhanced. I was right when my bright blue rug from the ebay listing arrived looking a much darker navy...which was what I was hoping and was very happy with.
Look early and look often
. New listings are added frequently. After a few days of looking, I did start setting the sort to list the most recent listings first. It helped me save time.
After following these tips, the rug I found looks great in the bedroom. So excited to show it to you all during the final reveal...just a few weeks away.
Check out the progress of the other One Room Challenge Guest Participants by going to
Calling It Home.